2013: 1 billion euros profit. 2014: beyond restructuring at KBC.
Outside trading hours - Regulated information*
Thursday, February 13, 2014 — KBC ended 2013 with a net profit of 1 015 million euros, compared with 612 million euros in 2012. In the fourth quarter of 2013, KBC incurred a net loss of 294 million euros, as opposed to a net profit of 272 million euros in the third quarter and 240 million euros a year earlier.

After excluding the impact of the legacy business (CDOs, divestments) and the valuation of own credit risk, adjusted net profit came to 960 million euros for 2013, compared with 1 496 million euros in 2012. For the last quarter of the year, the adjusted net profit stood at -340 million euros, as opposed to +457 million euros in the third quarter and +279 million euros in the last quarter of 2012.
Johan Thijs, Group CEO:
'Recent indicators are confirming that the economic recovery, which had been gradually building up in 2013, is continuing into 2014. Against this background of improving economic conditions, KBC posted a net result of 1 015 million euros for full-year 2013, or 960 million euros on an adjusted-profit basis. The result for the fourth quarter was influenced primarily by the announced impairment charges on Irish loans, which led to a net loss of 294 million euros, or 340 million euros on an adjusted-profit basis. Excluding this one-off additional impairment (a post-tax figure of 688 million euros), the net result amounted to 394 million euros, while the adjusted net result came to 348 million euros. When compared with the previous quarter, the group managed to increase the net interest margin further, with deposits and mortgages going up in several countries. We also collected higher revenues from fees and commissions, maintained a good combined ratio as well as an excellent cost/income ratio. However, loan loss impairment charges were somewhat higher (when Ireland is disregarded), while operating expenses increased somewhat due to seasonal effects.
In the quarter under review, the Belgium Business Unit generated a net result of 376 million euros, substantially above the figure of 295 million euros for the last quarter of 2012. Compared with the third quarter, the fourth quarter was characterised by higher net interest income, stable net fee and commission income, good life insurance sales, though a weaker non-life combined ratio due to higher claims, lower operating expenses and a higher level of loan loss impairment charges. The banking activities accounted for 85% of the net result in the quarter under review, and the insurance activities for 15%.
The Czech Republic Business Unit posted a net result of 119 million euros, slightly above the figure for the last quarter of 2012. In general, the results have been impacted by a weaker Czech koruna in the last three months of the year. Compared with the third quarter, this quarter included a decline in net interest income, an improved combined ratio in non-life insurance, increased unit-linked life insurance sales, higher net fee and commission income, higher operating expenses due to seasonal effects and higher loan loss impairment charges. Banking activities accounted for 92% of the net result in the quarter under review, and the insurance activities for 8%.
The International Markets Business Unit recorded a net result of -731 million euros, a one-off low. Compared with the previous quarter, the fourth quarter was affected predominantly by impairment charges of 773 million euros recorded for the Irish loan portfolio. Besides this, net interest income was lower (due to Ireland), but net fee and commission income substantially higher (thanks to Hungary). Seasonal effects and a higher cost base in Ireland meant that costs were also higher. Overall, the banking activities accounted for a negative net result of -735 million euros (the positive results in Hungary (with its adverse tax environment), Slovakia (where profit growth was robust) and Bulgaria were wiped out by the negative result in Ireland), while the insurance activities accounted for a positive net result of 4 million euros.
As announced in November 2013, we have reassessed our loan book, paying specific attention to the Irish loan portfolio, and set aside additional provisions due to the reclassification of 2 billion euros' worth of restructured mortgage loans. Given the slower-than-expected recovery of the SME sector in Ireland and a more prudent outlook for future cashflows and collateral values, we have also added provisions in our corporate loan book. This has led to an overall impairment charge in Ireland of 773 million euros for the fourth quarter of 2013. Our guidance for loan loss provisions in Ireland for the coming years remains at 150 to 200 million euros for 2014 and 50 to 100 million euros for both 2015 and 2016. This guidance is based on current economic projections. As regards the other countries, the estimated impact is considered to be immaterial at present.
We also finalised our divestment plan. In December, we completed the sale of KBC Banka and announced that an agreement had been reached to sell Antwerp Diamond Bank to the Yinren Group. As announced before, we reached an agreement in September to sell KBC Bank Deutschland AG. These deals will ultimately improve KBC's tier-1 ratio (Basel II) by around 0.3%.
We have collapsed one CDO in the first quarter of 2014, which will lead to a further decrease in exposure of our legacy assets of roughly 2 billion euros in nominal value.
On the subject of capital management, 0.7 billion euros in loans that KBC had granted to Cera and KBC Ancora was repaid during the fourth quarter. The proceeds of the sale of some of the KBC Group shares owned by these two entities were used to finance this operation. This reduction improved regulatory capital by 0.7 billion euros and the common equity ratio (Basel III fully loaded) by 0.7%.
At the beginning of 2014, we repaid a second instalment (0.5 billion euros, comprising 0.33 billion euros in principal plus a penalty of 50%) to the Flemish Regional Government. This repayment was again ahead of the schedule agreed with the European Commission and was made possible on account of KBC's robust capital position. The remaining state aid now amounts to 2 billion euros.
The liquidity position of our group remains very strong, with both the LCR and NSFR being well above 100%.
Our capital position also continues to be very robust, as illustrated by a pro forma tier-1 ratio of 15.6% (Basel II). This calculation takes into account the repayment of 0.5 billion euros to the Flemish Regional Government at the beginning of January and the divestments for which agreements have been signed. At year-end 2013, our common equity ratio under Basel III stood at 12.5% (fully loaded, pro forma, Danish compromise method), well above our goal of maintaining a target common equity ratio under Basel III (fully loaded) of 10%.
As regards to future dividend pay-outs, we will propose to the respective Annual General Meetings of Shareholders that no dividend be paid over accounting years 2013 and 2015. This would imply that no coupon will be paid on the outstanding Yield Enhanced Securities subscribed to by the Flemish Regional Government over those accounting years.
In relation to accounting year 2014, the intention is to propose to pay, out of the available profits generated in that accounting year, a dividend of up to 2 euros per share.
From accounting year 2016 onwards, it is the intention to resume regular dividend payments. The precise dividend policy from then on will be presented at the KBC investor day in June 2014.
Despite the fact that no coupons would be paid on the Yield Enhanced Securities in relation to accounting year 2013 and 2015, the return which the Flemish Region will receive on these instruments will remain well in excess of the minimum guaranteed return of 10% per year for the full holding period.
Any dividend payment will of course be subject to the usual approval of the regulator.
In conclusion, the results for 2013 reconfirm our strong belief in our core business of bank-insurance in Belgium, the Czech Republic, Slovakia, Hungary and Bulgaria.. Our utmost priority is to ensure that our clients, shareholders and other stakeholders benefit from our activities, and our 36 000 employees are committed to achieving this goal. We are truly appreciative of the trust that continues to be placed in us.'
For more detailed information, we refer to the attachments.
* This news item contains information that is subject to the transparency regulations for listed companies.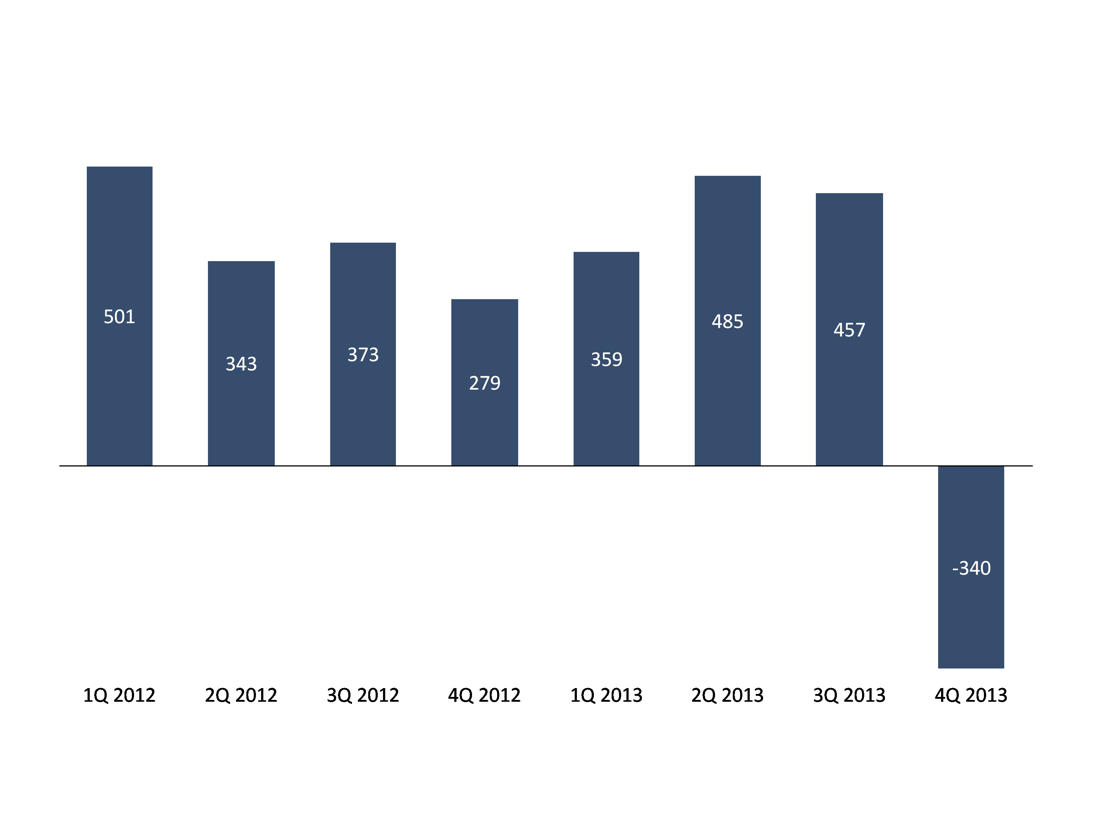 Contact us
Wim Allegaert
General Manager, Investor Relations, KBC Group
Wim Allegaert
General Manager, Investor Relations, KBC Group
Viviane Huybrecht
General Manager, Corporate Communication/Spokesperson, KBC Group
Viviane Huybrecht
General Manager, Corporate Communication/Spokesperson, KBC Group